Root
Open login modal
Close login modal
Open account menu
Close account menu
Open cart menu
Close cart menu
Expanded Family Life Cycle, The: Individual, Family, and Social Perspectives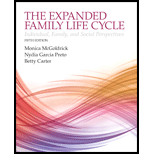 Expanded Family Life Cycle, The: Individual, Family, and Social Perspectives
Add Homework done fast. Homework done right.!
Get 24/7 homework help from bartleby learn with access to step-by-step solutions to millions of textbook problems, expert tutors on standby when you're stuck, and a mobile app so you can study on the go. Subscribe today and get your 1st month free*
View samples for Q&A
Sociology Tutor Q&A sample

Q&A Sample
* Offers available only to new users. Monthly plan option: One month trial starts at time of purchase. After trial, subscription automatically renews at $9.99/month unless canceled. Five month plan option: Purchase a 5-month plan for a one-time charge of $39.99. Subscription starts at time of purchase, does not auto-renew, is non-refundable, and cannot be canceled.